Shizuoka tapas course with main choice 4000 yen (with 90-minute all you can drink)
Course details
Shizuoka tapas course with main choice 4000 yen (with 90-minute all you can drink)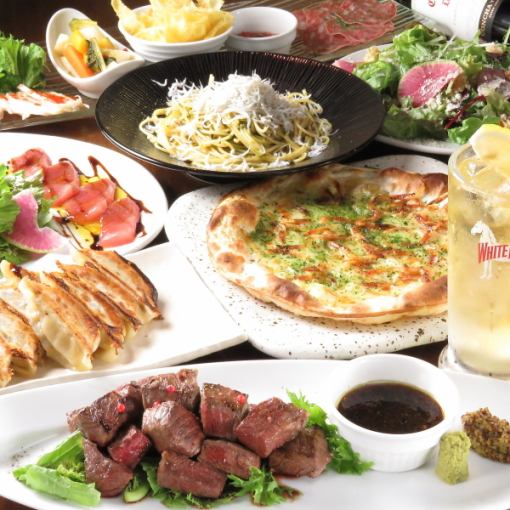 4000 yen
※ It is tax included price.
All-you-can-drink available

You can change the all - you - can - drink menu 90 minutes (basic plan) and 120 types of 120! With plus 500 yen (one person) 90 minutes drinking → 120 minutes!
Reservation deadline

Until 15:00 on the day before the store visit date
Available days for reservation

Monday - Sunday - Public holidays - Holidays
Organic flow caesar salad, Hamamatsu dumplings, Shirasu ahijo! The main choice is "鮪 bear's grass grill" or "Angus beef dice steak", and the main course is " Pizza, pasta · · · satisfied course to be full of stomach! It is a very popular Shizuoka Tapasi course, regardless of gender
Course menu
■ 4 kinds of appetizers
■ 3 natural fresh fish Carpaccio
■ Organic flow caesar salad
■ Premium Hamamatsu dumplings
Shizuoka's Shirasu Ahijo with homemade bread
■ Milano style pizza with sakura shrimp and blue sky
■ Main choice Main!
鮪 Grass of Grass Grass Grass
or
Angus cow dice steak
※ Please choose either when you make a reservation.
■ Shirasu Peperoncino
■ Gelato of oranges
* It is subject to change depending on the purchase situation.
All-you-can-drink menu
·draft beer
· Kirin's best squeezing
·wine
· · White wine ★ Jacondibianco / ★ Cassello · Chardonnay ★ Tatiara Chardonnay · Red wine ★ Jacondi Rosso / ★ Borsa o Classico Tinto / ★ Tatiara Cabernet · Shiraz
·Highball
· ★ High Ball / ★ La France High Ball / ★ Peach High Ball / ★ Passion High Ball
· Shochu / Japanese sake
· Shizuoka Cup / Oolong Tea Cereal / [Wheat] Red Enma / Enka of Fire / [Pot] Tang (Po to) / White Wave (Black) / [Dance of Flowers] Cold (Room Temp.) /
· Sour / cocktail
· Limone / Calpis / Peach / Pear / Cassis Orange / Cassis Oolong / Malibu Orange / Malibu Pine / Peach Fizz / Screwdriver / Gin Ricky / Gin Tonic
·Plum wine
· Plain plum wine / brandy / yuzu plum wine ※ rock · water split · soda split
·Soft drink
· Oolong tea / Green tea / Orange juice / Grapefruit juice / Pineapple juice / Mango juice
2018/12/11 update