★ Gattsuri to eat! Organic meat for meat lovers Barcose 4500 yen (90 minutes with all you can drink / 8 items)
Course details
★ Gattsuri to eat! Organic meat for meat lovers Barcose 4500 yen (90 minutes with all you can drink / 8 items)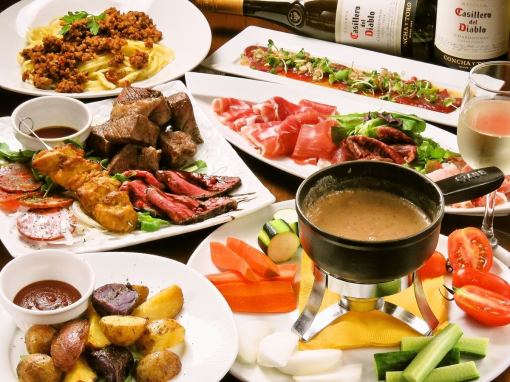 4500 yen
※ It is tax included price.You can drink all you can for 120 minutes at + 500 yen!
All-you-can-drink available

You can change the all - you - can - drink menu 90 minutes (basic plan) and 120 types of 120! With plus 500 yen (one person) 90 minutes drinking → 120 minutes!
Reservation deadline

Until 15:00 on the day before the store visit date
Available days for reservation

Monday - Sunday - Public holidays - Holidays
All-you-can-drink banquet / parties Friends / acquaintances and girls 'association Meat, meat, meat! It is irresistible for meat lovers! Volume full course which everyone can enjoy wiwai! Recommend it to the girls' societies ♪ Please cling to the meat ♪
Course menu
■ 3 kinds of ham ham
■ Organic flow caesar salad
■ Horse carpaccio
■ Pesticide-free vegetables Bagna cauda
■ luxurious meat prime!
↓
· Angus cow dice steak
· Shintoku pig pig tonguechi
Grill of organic pesticide vegetables
■ Western style chicken weir
■ Homemade meat sauce pasta
■ Gelato of oranges
※ Milan style pizza that you can choose from 5 species at + 500 yen!
* The contents may be changed in part.Thanking you in advance.
All-you-can-drink menu
·draft beer
· Kirin's best squeezing
·wine
· · White wine ★ Jacondi Bianco / ★ Kasshero Chardonnay ★ Tatiara Chardonnay · Red wine ★ Jacondi Rosso / ★ Borsa o Classico Tinto / ★ Tatiara Cabernet · Shiraz
·Highball
· ★ High Ball / ★ La France High Ball / ★ Peach High Ball / ★ Passion High Ball
· Shochu / Japanese sake
· Shizuoka Cup / Oolong Tea Cereal / [Wheat] Red Enma / Enka of Fire / [Pot] Tang (Po to) / White Wave (Black) / [Dance of Flowers] Cold (Room Temp.) /
· Sour / cocktail
· Limone / Calpis / Peach / Pear / Cassis Orange / Cassis Oolong / Malibu Orange / Malibu Pine / Peach Fizz / Screwdriver / Gin Ricky / Gin Tonic
·Plum wine
· Plain plum wine / brandy / yuzu plum wine ※ rock · water split · soda split
·Soft drink
· Oolong tea / Green tea / Orange juice / Grapefruit juice / Pineapple juice / Mango juice
2018/12/11 update